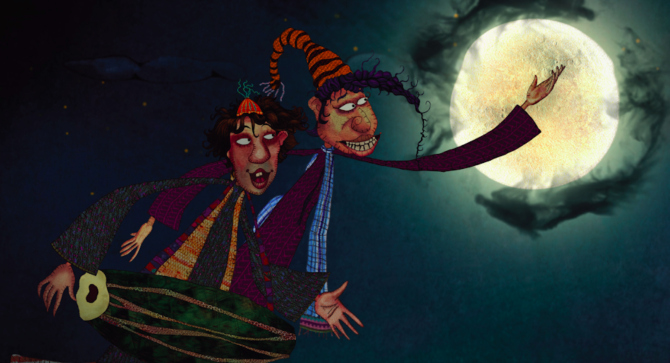 Spring Family Day at the Palo Alto Art Center
Date: Sunday, April - 15, 2018
Time: 12.30 pm - 4.30 pm
Location: Palo Alto Art Center, 1313 Newell Road, Palo Alto
SACHI and Palo Alto Art Center, in collaboration with Rinconada Library, Invite You to an Afternoon of Wonder and Excitement
Join an Exciting Series of Not-To-Be-Missed Programs:
Hands-on artmaking projects, a musical performance, a film screening, and a scavenger hunt
Activities appropriate for ages 5 through adult.
FREE and OPEN TO THE PUBLIC.
2:30 pm Film Screening:  The World of Goopi and Bagha (79 minutes, English subtitles)
2:00 pm- 4:00 pm Artmaking Activities (sari squares, elegant elephants, and luminous landscapes)
3:00 pm- Raavan- Retelling of an Indian Epic (staged reading of Ramayana) 
4:00 pm- 4:30 pm Live Performance with Stanford Raagapella (Stanford's South Asian a cappella group)
Please view invitation for event details and film description.
Click to view the preview of the film The World of Goopi and Bagha.