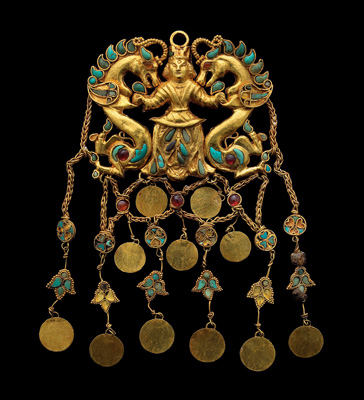 A Conference at University of California, Berkeley: Recovering Afganistan's Past
Date: Friday, November - 14, 2008
Time: 9am - 5pm
Location: Chevron Auditorium, International House, University of California, Berkeley
A Conference at University of California, Berkeley
Recovering Afghanistan's Past
Friday, November 14 and Saturday, November 15, 2008
9am – 5pm

Chevron Auditorium, International House, University of California, Berkeley
For detailed conference schedule, please visit http://ieas.berkeley.edu/events/2008.11.14w.html
Free admission to the talks on the Berkeley campus
This conference will focus on Afghanistan's cultural heritage in its past and present contexts and bring together scholars from various disciplines to address, among others, the following issues: the recovered objects from the National Museum; recent research and preservation/renovation projects; challenges of cultural heritage protection; the complexities of "targeted" heritage; cultural heritage and nationalism; and cultural heritage and globalization.
The conference has been organized in conjunction with the Afghanistan: Hidden Treasures exhibition which is on display at the Asian Art Museum October 24, 2008 through January 25, 2009.
Sponsors:
Center for Buddhist Studies (CBS), Al-Falah Program for Islamic Studies (CMES), Townsend Center for the Humanities, Center for South Asia Studies (CSAS), Institute of Slavic, East European, and Eurasian Studies (ISEEES), History of Art Department, Society for Asian Art, Association for the Protection of Afghan Archaeology (APAA), California State University-East Bay, Consulate General of France, Society for Art and Cultural Heritage of India (SACHI), and International House.
Society for Art and Cultural Heritage of India (SACHI)
Annual Meeting and Lecture in Honor of Peg Haldeman
Co-sponsored by the Asian Art Museum of San Francisco