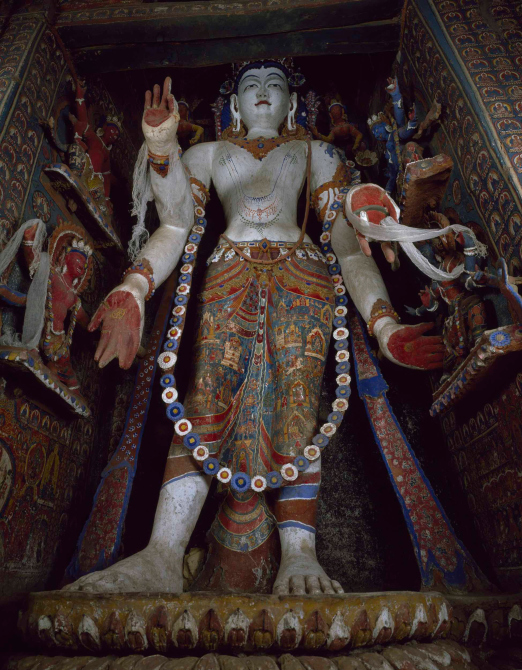 A Journey from Czechoslovakia to the Buddhist Himalayas: 40 Years of Exploring Himalayan Monasteries
Date: Monday, October - 30, 2017
Time: 7 pm
Location: Palo Alto Art Center, 1313 Newell Road, Palo Alto, CA 94303
SACHI Society for Art & Cultural Heritage of India is pleased to Invite you to an Illuminating Discussion with
Visiting Scholar Dr. Jaroslav Poncar Professsor Emeritus of Technical University, Cologne
A Journey from Czechoslovakia to the Buddhist Himalayas 40 Years of Exploring Himalayan Monasteries: A Photographic Documentation of Murals and Wall Paintings in Alchi, Tabo, and West Tibet
Dr. Jaroslav Poncar looks back upon nearly four decades of photographically documenting Buddhist monuments in the Himalayan region—notably Alchi in Ladakh, Tabo in Spiti, Tholing in West Tibet, and his more recent work in Mustang, Nepal.
In this talk Dr. Poncar will reflect on his rich oeuvre, discuss the challenges of photographing particular sites and the technical solutions adopted, and ways in which digital photography has impacted his work.
Jaroslav Poncar was born in Prague in 1945, has lived in Cologne since 1973 where he was professor at the department of imaging sciences of Technical University Cologne. His photographic projects took him to Africa, Arabia and mainly to South and Central Asia, especially to the West Himalayas, Tibet, India, Burma and Cambodia. Between 1996 and 2005 he was co-director of German Apsara Conservation Project at Angkor Wat. His responsibility was mainly photographic documentation of Angkor Wat. After his retirement in July 2010 he was in Afghanistan on one-year assignment by GIZ-CIM (German International Cooperation) to photographically document the cultural heritage of the country. Since 2015 he participates in the project of Christian Luczanits (SOAS, London) to document manuscripts and objects in the monasteries in Mustang (Nepal).
Free and Open to the Public
Image Credit: Avalokitesvara, Sumtsek at Alchi Chokhsor. Courtesy Jaroslav Poncar