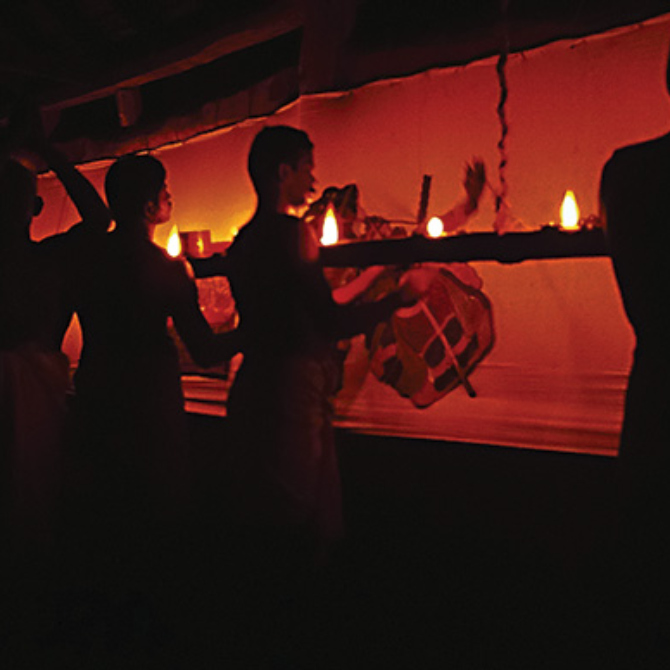 Borrowed Fire: The Shadow Puppets of Kerala: A film by Anurag Wadehra & Salil Singh
Date: Thursday, January - 21, 2010
Time: 6:30 p.m.
Location: Stanford University, Cummings Art Building, Lower Level, Room 4
Society for Art & Cultural Heritage of India and the Asian Art Museum of San Francisco invite you to a special SACHI annual event:
Department of Religious Studies at Stanford University and SACHI, Society for Art & Cultural Heritage of India present:
Borrowed Fire: The Shadow Puppets of Kerala
A film by Anurag Wadehra & Salil Singh
Thursday, January 21, 2010, 6:30 p.m.
Stanford University, Cummings Art Building,
Lower Level, Room 4
Free to the public
Film running time: 48 minutes
On the southwestern coast of India an extraordinary performing art has evolved over many centuries. It is known as Tolpava Koothu – "the Play of Leather Shadows". Performed in special outdoor theatres facing temples of the goddess Bhadrakali, it enacts the story of the Ramayana, a sacred Hindu epic.
Borrowed Fire documentary, set in South India, exquisitely captures this tradition on film. The struggle of the last surviving scholar and master-puppeteer to practice and preserve an ancient performing art provides a rare and poignant glimpse of a flame on the verge of extinction. Q & A with filmmakers Anurag Wadehra & Salil Singh follows the film screening. For more information about this documentary and the filmmakers, visit www.kathanjali.com.
For inquiries call 650.918.6335 or email info@sachi.org
For directions go to campus map. For directions call 408.971.0323. Free Sunday street parking