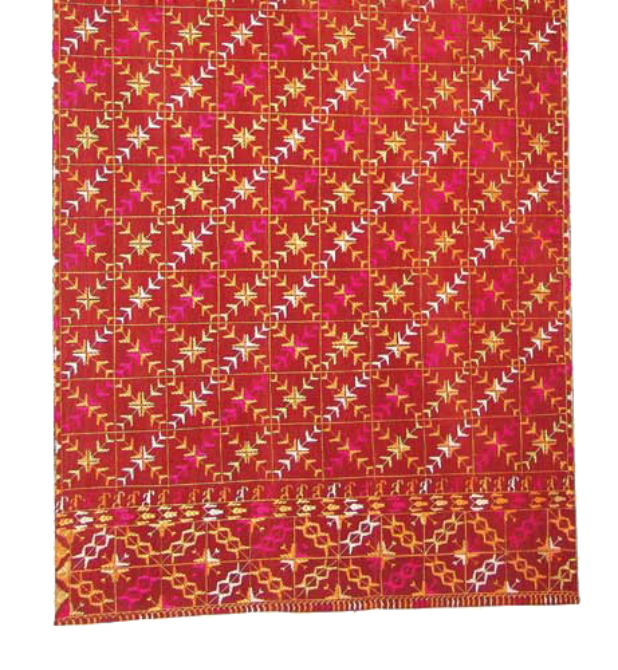 Colors of Punjab: Phulkari Embroideries of North Indiaby Shivi Singh
Date: Sunday, December - 13, 2009
Time: 2:00 p.m
Location: San Jose Museum of Quilts & Textiles 520 South First Street, San Jose, Ca. 95113
SACHI, Society for Art & Cultural Heritage of India
and the San Jose Museum of Quilts and Textiles present:
Colors of Punjab:
Phulkari Embroideries of North India
by Shivi Singh
Sunday, Dec. 13, 2:00 p.m.
San Jose Museum of Quilts & Textiles
520 South First Street, San Jose, Ca. 95113
Free after museum admission
Reservations suggested at 408.971.0323, ext. 14
Phulkari (flower embroidery) is a craft unique to the Punjab that has been popular since the 15th century. Pieces of cotton or silk fabric are embroidered with elaborate baghs (gardens), formed by intricate geometric patterns in bright contrasting colors. To this day these beautifully designed phulkaris are worn during marriages and festivals, and are passed down from mothers to daughters as part of marriage dowries.
This program is presented in conjunction with the exhibition, Reincarnation: The Crazy Collage Aesthetic of India and Japan, November 17, 2009-February 7, 2010 at the San Jose Museum of Quilts & Textiles, www.sjquiltmuseum.org.
Shivi Singh, MA, Art History, Punjab University, Chandigarh, India, is a recognized scholar for her writing and research on Rajasthani art and craft work. She lives in the Bay Area and lectures on the art and culture of India. She is an active member of SACHI. For directions call 408-971-0323. Free Sunday street parking