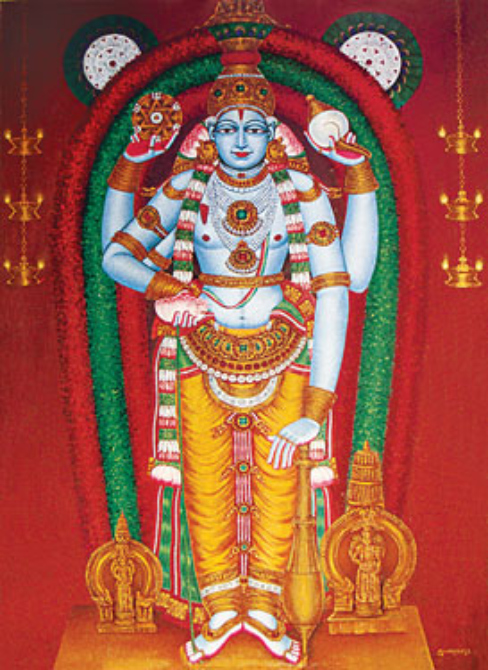 Heaven on Earth: The Universe of Kerala's Guruvayur Templeby Pepita Seth
Date: Sunday, May - 02, 2010
Time: 11:00 a.m.
Location: Palo Alto Art Center, 1313 Newell Road, Palo Alto, CA 94303
SACHI, The Society for Art & Cultural Heritage of India and the Palo Alto Art Center present Heaven on Earth: The Universe of Kerala's Guruvayur Temple by Pepita Seth
Sunday, May 2, 2010, 11:00 a.m.
Free admission and open to the public
Palo Alto Art Center, 1313 Newell Road, Palo Alto, CA 94303
Tel. 650.329.2366
For over a thousand years Hindu pilgrims have swarmed into the sacred precincts of Kerala's Guruvayur Temple to seek the blessings of Lord Krishna, known locally as Guruvayurappan. According to myth the sacred idol, believed to have been worshipped by Lord Vishnu, was installed soon after the death of Krishna. It is now the sacred core of one of India's most important temples, a temple renowned for the unbroken sanctity of rituals performed by hereditary priests, the Namboodiri Brahmins. Their links with the temple's divine origins ensure that its unique customs are unceasingly adhered to. The talk will reveal the complex heart of the temple, chronicling its myth and history, describing its rituals and beliefs, its traditional style of management, its elephants, its festivals and remarkable patronage of traditional art forms.
About the speaker:
Pepita Seth was born in London and grew up in Suffolk. She started her career editing British and American documentaries and feature films. The chance discovery of her great-grandfather's 1857 diary inspired her to make her first visit to India. In 1972 she returned to Kerala, India where she now lives. Driven by her passion and respect for the region's culture and traditions, Seth began seriously photographing and writing about the rituals of Kerala's Hindus.  In 1981, she received official permission to enter Kerala's temples—including Guruvayur Temple.
SACHI extends appreciation to Poornima & Arun Kumar, Betty Alberts, and Louise Russell for sponsoring this special event.