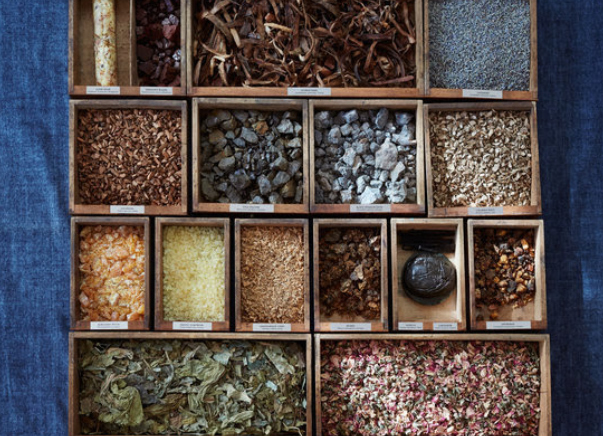 Immersive Experience at the Aftel Archive of Curious Scents
Date: Saturday, March - 24, 2018
Time: 11am to 2 pm
Location: 1518 Walnut Street, Berkeley, CA
SACHI Invites You to an Immersive Experience at the Aftel Archive of Curious Scents
At the Aftel Archive of Curious Scents visitors will be able to smell more than three hundred natural essences derived from fruits, flowers, trees, grasses, and other natural sources (and take three samples home). They will be able to compare essences that have been aged for a century to their modern counterparts. They can pour over more than fifty antique books in the Aftel Archive collection, retracing the amazing history of fragrance. Every item in the Archive is authentic and original, including the hand-tinted postcards and engravings, some of which date back four hundred years. 
Visitors are invited to immerse in this rich sensory landscape!

Fees: $22.45 per person museum admission and  group reservation at nearby Chez Panisse for a no host lunch 
RSVP: info@sachi.org; Tel. 650-349-1247 
Limited to 20 participants only, first come, first served 
Tickets include: 1 hour visit to the Archive, 2 pieces of dark chocolate flavored with chef's sprays, and 3 letter-press scent strips to dip in essences and take home. 
11:00 AM – 12:00 Noon Pre-Lunch, 
or 1:00 – 2:00 PM Post-Lunch Museum Reservation 
Link to NY Times Style Magazine Article About Aftel Archive.
Image: Antique Drawer of Botanical Materials, Aftel Archive Collection