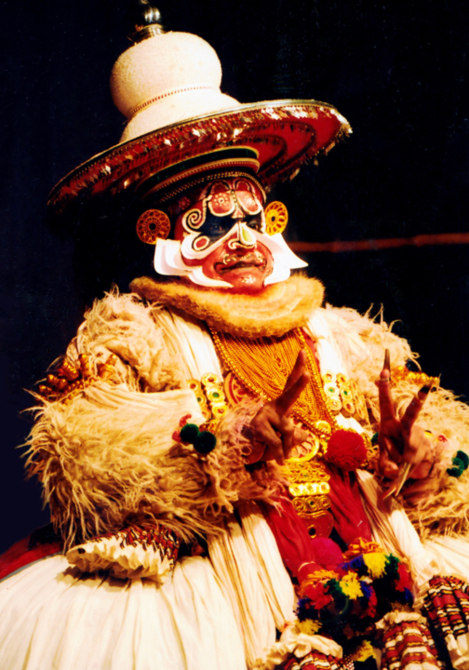 Date: Monday, October - 17, 2016
Time: 8.00 pm
Location: Hillside Club, 2286 Cedar St. Berkeley, CA 94709
Three evenings of delightful Kathakali performances, presented by Kaladharan Vishwanath with special guest artists. Makeup & costumes by Kalamandalam Sukumaran. Introduced by Kaladharan Viswanath. Presented by Graeme & Eve Vanderstoel, and  co-sponsored with SACHI.
Monday October 17
Ravana reminisces about his childhood.
Kalamandalam Manoj as Ravana
A fascinating "monologue" by the powerful and demonic King Ravana remembering his early childhood, and his mother's ambitions for him. This play, Ravanodbhava, was written in the mid 1700s.
Tuesday October 18
Ravana woos the abducted Sita.
Kalamandalam Manoj as Ravana, Roshni Pillai as Sita, Janhavi Pillai as Mandodari
The demonic Ravana kidnapped Rama's wife Sita and has taken her to his kingdom in Lanka. When he mades advances to Sita, his wife Mandodari intervenes. The play Torana Yudha was written in the 16th century.
Wednesday October 19
Hanuman discovers Sita in Lanka.
Kalamandalam Manoj as Hanuman, Jan Zeitlin as Sita
Hanuman, the monkey general and alley of Rama, searches for Sita in Ravana's kingdom of Lanka. He creates havoc before finding Sita in the palace garden. He gives Sita Rama's ring to prove his identify. Also a scene from Torana Yudha.
For tickets please click on the link here and search for Kathakali  in "Find an Event".