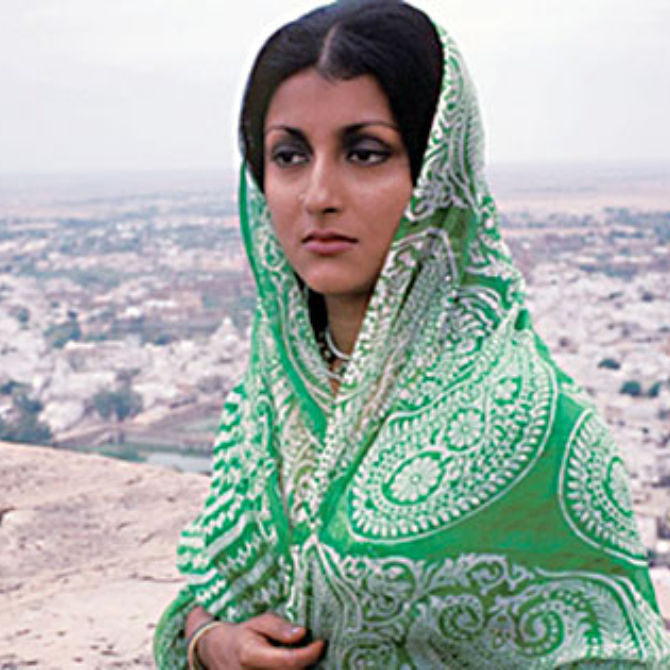 Date: Sunday, November - 13, 2011
Time: 11:30 a.m to 4
Location: Asian Art Museum, Samsung Hall
200 Larkin Street, San Francisco
Free after museum admission and open to the public. Light refreshments.
SACHI Annual Meeting will be held 1:30 – 2:00 p.m. in the Education Classrooms, Ground Floor, Asian Art Museum
Hullabaloo over Georgie and Bonnie's Pictures (1978)
Run time: 85 minutes (cover image)
Victor Bannerjee plays a young Maharaja named George, while Aparna Sen portrays his sister, Bonnie. Brother and sister are the proud possessors of a priceless collection of miniature paintings, which makes them the target of every critic, appraiser, and huckster in the art world. Lady Gee (Peggy Ashcroft) is a museum curator–part of a group that descends upon a palace in India for a valuable collection of paintings. Merchant Ivory production
Autobiography of a Princess (1975)
Run time: 59 minutes
Indian princess Madhur Jaffrey divorced and living in self-enforced exile in London invites family friend James Mason to an annual tea party and persuades him to write a biography of her father. The two watch footage of Royal India, and the king's privileged lifestyle only convinces the Englishman to write about those who struggled amid poverty.
Merchant Ivory production
Merchant Ivory Film Productions:
American director James Ivory (born 1928) enjoyed a successful partnership with Indian producer Ismail Merchant, in their independent film company, Merchant Ivory Productions. James Ivory's fascination with exotic places led him to India, where he teamed up with Ismail Merchant, and German-born writer, Ruth Prawer Jhabvala. The trio's first films were set in India. Concerned with questions of cultural interplay and identity, "The trio express the difficulty of connecting through a number of metaphors: past/present, Hindu/Muslim, England/India, America/Europe, homosexual/heterosexual, man/woman", noted film critic Jeffrey Gantz. Since 1961 Ivory, Merchant, and Jhabvala collaborated on more than 20 movies and television productions in India, the US and Europe. The films of Merchant Ivory Productions have evolved into a genre of their own.
About the Speaker:
Nalini Ghuman is Associate Professor of Music and an Asian Studies scholar at Mills College. She recently inaugurated a special one of a kind course on the music of India. An authority on British music and imperialism during the Raj, Dr. Ghuman publishes and presents her research internationally, including programs on BBC Radio and essays for Western Music and Race (Cambridge University Press, 2007) and for Elgar and His World (Princeton University Press, 2007). Her most recent book is titled, Resonances of the Raj: India in the English Musical Imagination, 1897-1947. Dr. Ghuman graduated from Oxford University and King's College, London, completing her PhD at University of California, Berkeley in musicology and ethnomusicology. In 2004 she co-directed a fully staged performance of Gustav Holst's chamber opera Savitri at Mills College.
SACHI Annual Event sponsors: Louise Russell, Mary-Ann Milford-Lutzker and SOAS, University of London