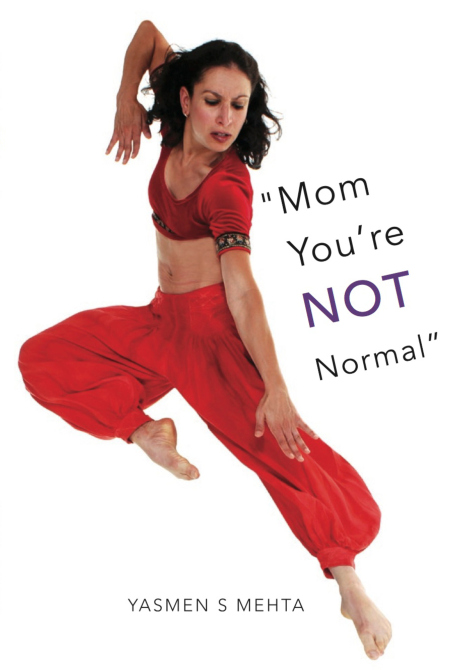 "Mom, You're Not Normal": Yasmen Mehta in conversation with Kamini Ramani
Date: Saturday, March - 05, 2016
Time: 4 pm to 6 pm
Location: 70 Tobin Clark Drive, Hillsborough, CA
Society for Art & Cultural Heritage of India (SACHI) is delighted to present Yasmen S. Mehta, a dynamic and creative San Francisco dance artist and choreographer, in conversation with Kamini Ramani,  a storyteller and fan of artistic and entrepreneurial talent.
When Yasmen Mehta's daughter tells her, "Mom, you're not normal," she takes it as a compliment. It has taken her many years to achieve sublime nuttiness, and she has relished every wacky experience that brought her closer to her goal. In her memoir, Mehta shares her hilarious and fascinating life story and the many lessons she has learned along the way. After twenty years of pirouettes and pliés, her decision to embrace her inner jock through speed skating further cemented popular opinion: Yasmen Mehta is not normal. Mehta currently teaches CrossFit, Pilates, and Yoga Tune Up®. In telling her life story, she explores the power, beauty and grace of the human body while encouraging others to experience that for themselves.
Kamini Ramani is a Bombay native turned San Francisco resident for over 25 years. Her love for literature began in the dark halls of Elphinstone College where she was taught and inspired by a phalanx of legendary Parsi professors. She pursued this interest with a degree in English Literature at Yale University, followed by a second degree at Stanford University. She is an avid reader of fiction (South Asian & beyond). As the marketing partner at venture capital firm Mayfield, Kamini enjoys amplifying the stories of passionate entrepreneurs.
Q & A, and Book Signing will follow the conversation.
Free Admission; Light Refreshments will be served.