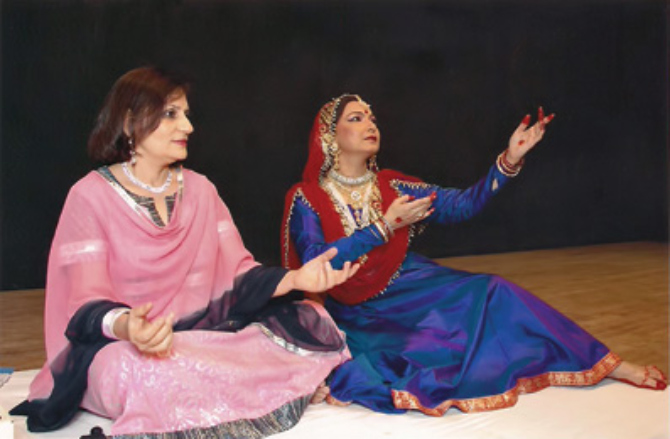 Music & Dance from the Courts of North India in a Thumri-Kathak Performance by vocalist Dhanashree Pandit Rai and Kathak dancer Keka Sinha
Date: Thursday, January - 19, 2012
Time: 7 – 9 p.m.
Location: Samsung Hall, Asian Art Museum
200 Larkin Street, San Francisco
Music & Dance from the Courts of North India in a Thumri-Kathak Performance by vocalist Dhanashree Pandit Rai and Kathak dancer Keka Sinha
Accompanied by artists Arshad Syed on the tabla and Vivek Datar on the harmonium

Thursday, January 19, 2012
7 – 9 p.m.
Samsung Hall, Asian Art Museum
200 Larkin Street, San Francisco
$75 per person, prority seating SOLD OUT
$50 per person, priority seating
Limited priority seating includes museum admission and Maharaja exhibition viewing.
Rsvp, kalpana@sachi.org; 650.349.1247
$20 per person, open seating, Asian Art Museum non-members
$10 per person, open seating, Asian Art Museum members
General seating may be purchased online. For tickets, please click Asian Art Museum.
For information contact publicprograms@asianart.org; tel 415.581.3660
Re-live the splendour of the Nawabs in a unique concert of Thumri & Kathak, tracing the hand in hand journey of two great art forms through time.
Listen to immortal traditional Thumris brought to life in Kathak dance expression, re-creating the glory that was Lucknow in the early to mid-19th century.
Thumri, a light vocal classical music genre in North India, popularly ascribed to the 19th century court of Nawab Wajid Ali Shah of Lucknow, arose as a song accompaniment to Kathak dance. Kathak, one of the 8 major classical dance forms of India, is the art of storytelling in dance. It originated as religious storytelling in the temples of India and later gained prominence in the princely courts in mid-19th century.
A program depicting the close interaction between the two art forms, Thumri and Kathak, presented by artists Dhanashree Pandit Rai and Keka Sinha will evoke the court ambience of 19th and early 20th century India in a fully choreographed performance of dance, music, and storytelling.