Rupayan: Spectacular Folk Music Ensemble from Rajasthan in collaboration with Kalapriya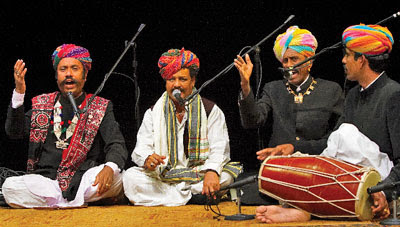 Date: Saturday, October - 11, 2008
Time: 6:30 pm
Location: Campbell Recital Hall Braun Music Center 541 Lausen Mall Stanford University
ACHI, the Society for Art & Cultural Heritage of India,
RANA, Rajasthan Association of North America,
Stanford University's Abbasi Program in Islamic Studies
and the Center for South Asia, jointly present
Rupayan: Spectacular Folk Music Ensemble from Rajasthan
in collaboration with Kalapriya
Free Admission, Limited Seating.
RSVP 650.353.7846 or email sachi@gmail.com
Please note: New RSVPs will be waitlisted only
The Thar Desert region of Rajasthan has nurtured one of the most vibrant and evocative music cultures of the world. Rupayan is on tour with eight performers from the Langa and Manganiar communities of hereditary professional musicians, initially organized by the late ethnomusicologist and folklorist Komal Kothari of Jodhpur. They have performed in more than 200 venues in thirty countries.
The Langas and Manganiars are Muslim musicians who have traditionally performed for both Hindu and Muslim patrons. Many of their songs are in praise of Hindu deities and celebrate Hindu festivals such as Diwali and Holi. They also sing the poetry of South Asia's great Sufi poets.
The performance will be accompanied by narratives, and includes translations of selected song texts and a lively Q & A with the artists.