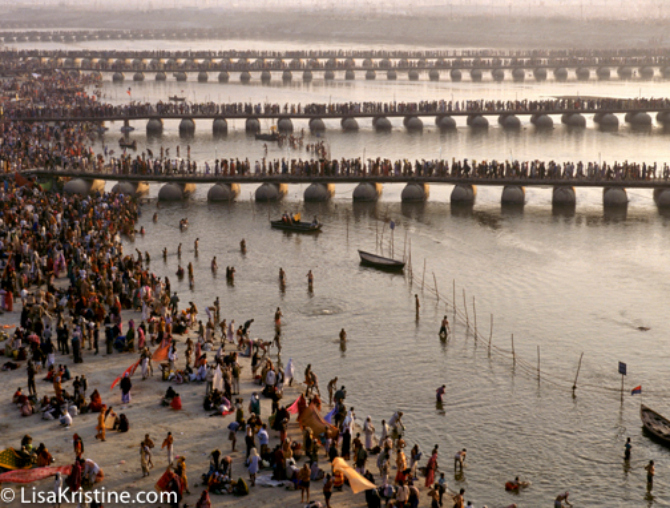 Sachi Annual Event 2016: Mapping the Kumbh Mela
Date: Saturday, November - 05, 2016
Time: 2 pm
Location: Asian Art Museum, Samsung Hall, 200 Larkin Street, San Francisco
Society for Art & Cultural Heritage of India and Asian Art Museum, San Francisco in collaboration with South Asia Institute, Harvard University proudly present Mapping the Kumbh Mela The World's Largest Gathering of Humanity.
Kumbh Mela represents the world's largest gathering of humanity at a religious festival that occurs every twelve years, lasts 55 days, and draws millions of visitors to a temporary, purpose built tent city on the banks of the Ganges and Yamuna. Over fifty Harvard professors, students, administrative staff, and medical practitioners made the pilgrimage to Allahabad, India, to the Kumbh Mela site in 2013, inspired by its scale and complexity, to document and analyze the processes involved in the successful functioning of the Kumbh. An interdisciplinary team included faculty from Harvard's Business School, Divinity School, Graduate School of Design, and School of Public Health.
Join Harvard faculty leaders Diana Eck and Rahul Mehrotra of the Kumbh Mela research project as they share viewpoints from the 2013 Kumbh. Prof. Robert Goldman, UC Berkeley,  and international humanitarian photographer Lisa Kristine will be the hosts leading the panel discussion and Q & A.
This event coincides with the Asian Art Museum's 50th Anniversary Special Exhibition, The Rama Epic: Hero, Heroine, Ally, Foe on view through January 15, 2017.The Event is Free after Museum admission, and open to the public.
Image Credit. Lisa Kristine www.lisakristine.com