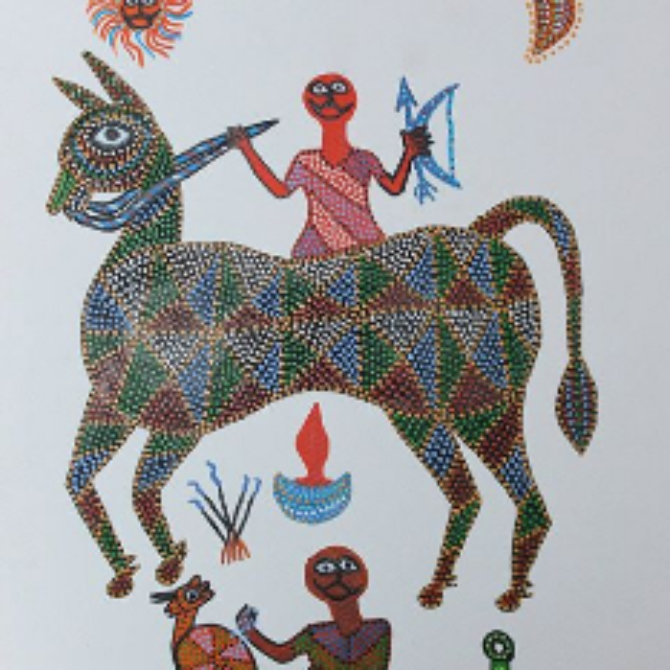 Spring Family Day at the Palo Alto Art Center
Date: Sunday, March - 26, 2017
Time: 1.30 to 4.30 pm
Location: Palo Alto Art Center. 1313 Newell Road, Palo Alto


Palo Alto Art Center Foundation and SACHI present 
Children's Activities on Spring Family Day
Explore the beauty of spring at the Palo Alto Art Center!
Join us for storytelling, hands-on artmaking projects, and a dance performance.
Activities are appropriate for ages 5 through adult. 
 SCHEDULE OF EVENTS: 
* 1:30 pm Listen to a dramatic and humorous South Asian folktale with storytellers from Kitaab World followed by a traditional Pithora painting activity led by Pragati Sharma
PITHORA is a ritualistic painting tradition from Madhya Pradesh in Central India. Pithora art form comprises of dense colorful dots on a larger shape very similar to Australian Aboriginal art. Each participant will decorate cut out shapes (of leaves and birds) with paint and create a small piece of Pithora art to take home, and also participate in a big artwork that will come together as a large community art project (Tree of Life) at the PAAC.
*2-4 pm Wrap the trees with yarn with textile artist Eden Evans. Artmaking activities led by Art Center teaching artists: Rainbow Kaleidoscopes, Mandalas, and Secret Shadowboxes
*4-4:30 pm Dance Performance in the Sculpture Garden  
A FREE Public Event 
All Family Days are free, thanks to the support of the Palo Alto Art Center Foundation.