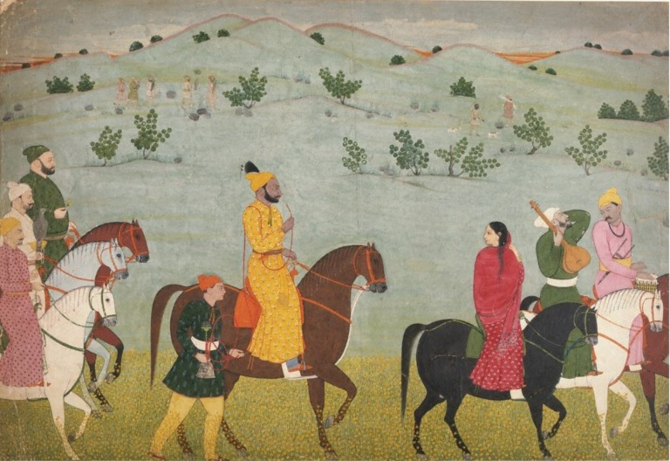 SACHI 20th Anniversary Annual Event 2017: The Unbearable Lightness Of Drawing with Dr. B.N. Goswamy
Date: Sunday, November - 12, 2017
Time: 2 p.m.
Location: Samsung Hall, Asian Art Museum 200 Larkin Street, San Francisco
SACHI, Society for Art & Cultural Heritage of India, Asian Art Museum of San Francisco, and The Asia Foundation
are very honored to present
Dr. B.N. Goswamy
Distinguished art historian and Professor Emeritus, Punjab University, Chandigarh
In an Illustrated Lecture Presentation
The Unbearable Lightness Of Drawing : Tracing the Life and Work of the Great 18th Century Painter, Nainsukh
Internationally renowned and distinguished scholar Dr. B.N. Goswamy will lead an insightful journey into the realm of the Indian painter Nainsukh. In his pathbreaking work, Nainsukh of Guler: A Great Indian Painter from a Small Hill State, Professor Goswamy writes, "To trace the life and career of a painter (of the past) in India is somewhat akin to following the course of an earthen lamp oating on swift waters." One can sight the glow for a while, but soon uncharted vastness takes over.
In his lecture Professor Goswamy will share with the listener how he embarked upon the hard but rewarding task of identifying and picking up a faint whisper from the silences of the virtually anonymous past, and then piecing together something of the life of this great painter. In discussing his research, Professor Goswamy will draw attention to the entire ascribable oeuvre of Nainsukh – close to a hundred paintings, painted sketches, and drawings – and focus on a selection from it.
The Event is Free after Museum Admission and Open to the Public RSVP recommended: info@sachi.org; Tel. 650-918-6335
Please join us for a reception in the Loggia adjoining Samsung Hall immediately following the lecture.
The SACHI Annual Meeting will be held at 1:15 PM in Samsung Hall preceding the lecture presentation.
Image Credit: Mian Mukund Dev of Jasrota, c. 1740-45, by Nainsukh of Guler, Himachal Pradesh, opaque watercolor on paper, Victoria & Albert Museum, London